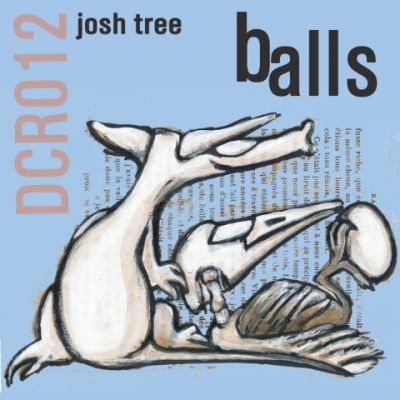 [DCR012] JOSH TREE - BALLS
Techno/Minimal | 22.05.2013
Finally, the time has come, Josh Tree from Basel releases his first EP called "Balls" on Dirty Cat Records. Four minimal-techno tracks at its best. Driving beats, creaking basses, playfull percussions, unusual, trippy, home-made samples. When you don't expect it, a bassdrum, a hihat, a snare beginns. He takes you to a journey through his past, through his influences and arrives to surprise you again and again. We are proud to present to you with Josh Tree a high talented musician and we are curious about more surprises.
Tracklisting:
01 Show some balls (07:21)
2) Gustav (07:58)
3) Foolish (08:05)
4) Frozen love (07:12)
Feedbacks:
Figueroa (Viral Cutz/Rawthentic/SCI+TEC) - Love the trippy vibe. support!
Jen & Berry's (SASOMO Bookings, katerholzig) - FROZEN LOVE sounds quite impressing, very cool sound cuts, lovely merged into one track. Cool one! FOOLISH remembers of Lake People a bi, very cool, very atmospheric. We like that! SHOW SOME BALS and GUSTAV are too minimalistic for our mixes, but well produced ;)
Eddie Hu (Revox Records) - Foolish was great,will play. thank you. Thanks, will play for sure!
Fresh Meat (Berlin Mitte Institut) - Thanks, Show some balls and gustav are great, will play both
Mijk van Dijk (Microglobe Productions) - "Show some Balls" is really funny, makes me all smiles, love to play this..
Maertz (Konzentrisch Music) - Really nice sounds here, Foolish and Show some Balls are my favs, thanks so much!
Gabriel Le Mar (le mar production) - Very nice EP – Foolish is my fav – i love smooth atmo and guitar in there – big – up!
Martin Dacar (Sonett/Supdub/Finn/TLK) - Awesome Tracks! Show some Balls and Foolish are my faves! Thank you !!!
Roland M. Dill (Herzblut Traum Trapez Punch) - Frozen live is cool!!! Thanks will play for sure!
Joy Kitikonti (Nervous Footloversmusic Wildliebe F) - I really love the release! Thanks.
PlAYANE (Catslovebass) - Nice EP! Well done!
Die Haustiere (Movida Rec / Hoehenregler) - Nice deep minimal sounds. Nice release, full support.
Alexander Bien (electrosound.tv) - Interesting release! Downloading for electrosound.tv! Thank you!
Zweiklang (Solardish Records) - Deep elements in here :)
kosmos (tracy) - Love the space and the eerie melodies. Nice release, full support! 
Sergio Gomes (BREAKS lda.) - Some nice sounds inside….
Omar Salgado (Ouh! ma… / Numbolic) - Nice tunes… My fav is Gustav. Will play. Thanks. Full support! 
Du Sant (Krad Records/Musickollektiv/Plunk!) - Excellent ep, thanks! Will play for sure! 
Miguel Garji (Ibiza Global Radio) - Interesting minimal deep. I will try on my Deepfusion 4 sure. Gracias. 
Rafa (Terpsicoresound) - Wow, I love it! 
Dualism (numbolic) - Some cool tunes.. thx for sharing the music :)
Mario Spit (Consumed Records) - Nice tracks, are originals. Will try, thanks!
Pierce (Get Digital / MBF / Trapez Ltd. / Traum / Yellow Tail) - Gustav is veeery cool stuff!
Repton (Login Records) - Show some balls best for me here but all ep very interesting.
Laurent N. (LCR & Electropival Records) - Foolish track for me : nice one. Will play & support!
The Freak Factory (The Room,Tobus,Malicious Smile) - Wickeeed!! :D will try some tracks for sure!
Dot, Trapez, Dub Records) - Nice mellow stuff!
David Moreno (Ibiza Global Radio) - Thanks, will play for sure!
Alex D'auria (Sound of Square Record /Need Music Records / 4th Records) - Wow, I love it! 
Rodrigo (Origami Digital - Brazil) - Nice Work… Will try, thanks. 
Das Fachpersonal (Cuberibe Records) - Cool release! Thank you! 
Lucio Malatoid (Malatoid Records Pressology Records and Distribution) - Show some balls for me!
D. Kowalski (Space Panorama Records) - Cool EP! Thanks!
Homebase (Beatwax) - Will play "Show some balls"
Flamen (Giraphone Records) - Nice EP! Thanks! 
Datamatrix (Cosa Nostra, Unbrokenbeat, Carmarage) - Nice Release, thanx!
Fidel (506 Dance) - Very tince. Nice release, full support!