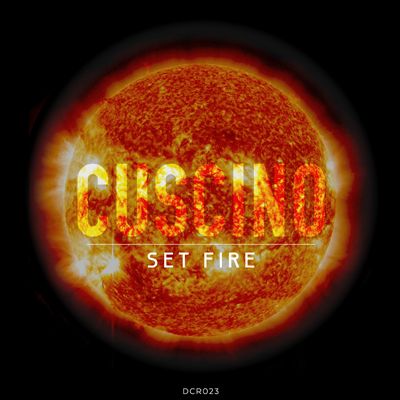 [DCR0023] CUSCINO - SET FIRE
House/Deephouse/Techhouse | 27.07.2014
We are proud to announce a highly talented, multi-faceted artist: CUSCINO from L.A. He is an EDM producer as well as a film composer. With his music he tells us thrilling stories about his own visions, about his own movies. Set fire is a progressive house track, you can't classify immediately, which makes it unique. Creaky analogue sounds and sophisticated melodies. In the end we can present some great remixes for the dancefloor: a wonderful techhouse track by Adis Gile, a driving deep house track by Dirty Cat, a chilled deep house track by Hansgod and an experimental electronica track by Kabelmann. A round release for the upcoming summer.
Tracklisting:
01 Set Fire (Original Mix)
02 Set Fire (Adis Gile Remix)
03 Set Fire (Dirty Cat Remix)
04 Set Fire (Hansgod Remix)
05 Set Fire (Kabelmann Remix)
Feedbacks:

sasha le monnier - Hansgod delivers a nice trippy version.
—————————–
Rob Boskamp - Great release!
—————————–
Mario Ferrini - Adis Gile remix for me!
—————————–
Alex / Dr.Zoldberg - Really great release again! Downloading for electrosound.tv. Thank you…
—————————–
Adnan Jakubovic (Tenzi.FM) - Supporting Adis Gile remix, tnx !
—————————–
Nick Coles - Support!
—————————–
Shadowfall - Really cool and diverse package, definitely outside the box while keeping appeal.. good work guys!
—————————–
John P. / Westradio.gr - Nice release! will play! thanks
—————————–
EDEN - Summer time! Hansgod remix is definitely gonna be hot!
—————————–
Gonzalo Menoyo - Thanks for the music,Nice Track.
—————————–
HipGnosis - Set Fire has a very mid-90's warehouse vibe that I love. It's a slow burner, but the 2nd half especially is DEEP headphone material.
The Adis Gile remix is a trip, far and away my favorite. I'll definitely be playing this one! The Hansgod remix is also really fun. It's a nice playful tune for the dancefloor.
The Kabelmann remix was completely unexpected, and is a great inclusion due to its uniqueness.
—————————–
Chris (Taiwan Lounge Radio) - Fantastic! remixes are excellent
—————————–
Pablo Prado aka Paul Nova - Nice song and remixes!
—————————–
Pedro Blázquez - Nice remix by Hansgod. I like the layers, vocals & piano
—————————–
Black Mighty Wax - I'll play with pleasure the Hansgod Remix.
—————————–
Juanjo G - Good sound, I played for sure!
—————————–
DJ Klangfieber - Cuscino is a valid addition to the DIRTY CAT family!
SET FIRE will set fire!
—————————–
Mild Bang - Hansgod remix for me
—————————–
Haurelio - Huge release !!!!
—————————–
Roman Alexandrov - Will try Adis Gile remix! Thanks for sending!
—————————–
Steve Sai - Nice Remixes !!!
—————————–
Mark J (Supagroove) - 2,3,4… nice stuff, have been playing the last track a lot in barcelona recently too… get in!
—————————–
JJ Mullor - I try it, thank you!
—————————–
frisco (Tullido) - Good work
—————————–
Delmar Browne - Melodically Astounding In Every Sense From The Dance!™ Delmar Browne
—————————–
Matt Handy - Hansgod Remix is very nice deep house!! Thanks
—————————–
Coers - Cool One
—————————–
DJ deMarko - Each one is a nice track as its own, thumbs up…
My favourite Track is the Dirty Cat remix - cause I love these forward pushing beats and the power, the energy I´m looking for.
—————————–