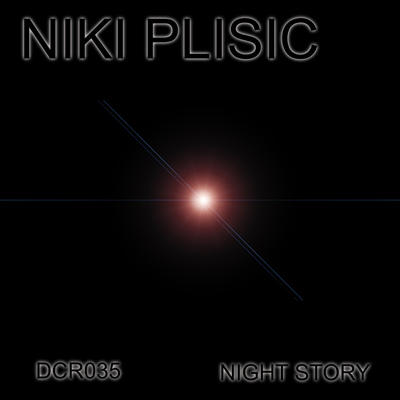 [DCR0035] NIKI PLISIC - NIGHT STORY
Deep Techno / Deep House | 12.06.2015
We proudly present an other new artist, a young producer from Croatia "Niki Plisic". With his EP "Night Story" he packages us a wide range of electronic music. Five techno and house tracks with sparkling sounds, deep basses and crispy beats.
Tracklisting:
01 A BitterSweet Life
02 Cyberpunk
03 Deep Happiness
04 More Love
05 Night Story
Feedbacks:
Ambrotype - Cyperpunk is awesome! Thank you! :)
—————————–
CSMNT61 - interesting release. More Love for me stands out
—————————–
Damaged Man - Nice Release! Night Story is my Favorite
Full Support
—————————–
Hair Band Drop-Out - Cool tracks. I like Night Story the most.
—————————–
Juanfra Munoz -  Thanks for the music!!
—————————–
Mild Bang - Nice tracks!!
—————————–
Mark J (Supagroove)- A bitter sweet life sounds cool! nice pack!
—————————–
Dj Corvino Traxx - Good!
—————————–
Haurelio - Huge release…
—————————–
bashico - Dreamy.
—————————–
Sergio Gomes | BREAKS lda. -  Some nice sounds…
—————————–
Omar Cito Perez (Pacha recordings) - Nice release guys ! the one that stood out was Cyberpunk. It had that special quality of something new and different. A very euphoric progression. Props!
—————————–
Jen & Berry's - A quiet experimental and individual EP with a lot of interesting numbers - not for our sets at first sight, but interesting though.
—————————–
Merlyn Martin - BitterSweet Liife is VERY nice - thx!
—————————–
John P. / Westradio.gr - Very good release! will play! thanks
—————————–
Constantin (radio-fds.de) - Good Sound!
—————————–
Andrew Consoli - GREAT EP
—————————–
MTdbruno - I like it
—————————–