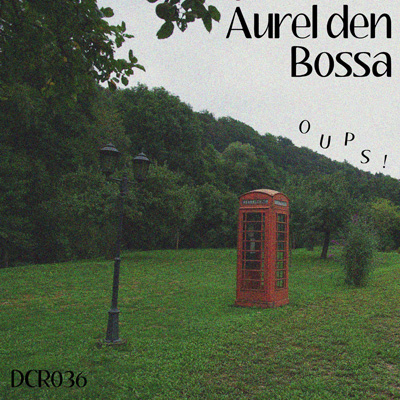 [DCR0036] AUREL DEN BOSSA - OUPS!
Techno/Tech-house/Deep House | 17.07.2015
Aurel den Bossa is back with an other big release. "Oups!" is modern, is now, is unique. Six tracks for the dance floor. Deep house, tech-house and techno, a multi-faceted, beautiful album and each track has his uniqueness. A perfect piece of electronic music for the summer season.
Tracklisting:
01 Oups!
02 Abondance
03 Ciboulette
04 Back room
05 Nola Rice is crying
06 Human life
Feedbacks:
Dj Chito - Full support !
—————————–
XLII - I'm new to house and techno, but this stuff is dope.
—————————–
Pablo Prado (aka Paul Nova) - Thanks for your promo! I will play in my live sets and radioshows for sure!
—————————–
paul nazca - Support the ep. Paul
—————————–
TechnoBase.FM - Nice soummer groove! I'm totaly falling in love with the sounds <3
—————————–
Copyright Criminals - Love the Latin vibes! Kickin' it like a Bossa!
—————————–
Omar Cito Perez (Pacha recordings) - Wow… sometimes you have to wait so long for a track like ABONDANCE…. but it so worth it ! What a nice arrangement and the harmonic progression is spot on. The drum lines and their levels are perfectly balanced in the mix. Will showcase this on my INTENTIONS radio show!
Omar Cito Perez
Pacha recordings, Ibiza, Spain.
—————————–
Sergio Gomes | BREAKS lda. - Coolio… Solid release.
—————————–
anderson noise - Thanks for the music
—————————–
stefane (warm.fm) - Very nice stuff ;) support ;) txs
—————————–
MTdbruno - I like it
—————————–
MPI - This is great!
—————————–
Andrew Consoli - Very good ep, Cibouette is my favourite. Great!
—————————–
Chris (Taiwan Lounge Radio) - All tracks are so good !!
—————————–
Lefrenk - Good, thanks.
—————————–
Steve Sai - Human life !!!
—————————–
Tjerk Coers - Cool ones
—————————–
UNCLE DOG - Great !
—————————–
CUSCINO - Love the deep headphones vibe here…SUPPORT - @CUSCINO
—————————–
Mild Bang - Ciboulette is cool
—————————–
Matt Handy - Nice package again from Dirty Cat Records!! Thanks
—————————–
Damaged Man - Nice Release! Abondance is my favorite, Really Great Track!! Nice Vibe!!!
—————————–
Artur Nikolaev - 'Oups!' is nice, thanks!
—————————–
Dj Corvino Traxx - Good Release!
—————————–